Managed to get a lot done on my drawing of Marble today. Not sure if i am going to leave it at this stage as finished, will have to have a think about it. I kind of like the fact that it's focussing on her face as she's so cute. I think it took around 10 hours to get to this stage and took a lot of concentration to get the colours right but i am pleased with how it came out and quite glad it went so well for my first cat drawing. So here are the latest stage images.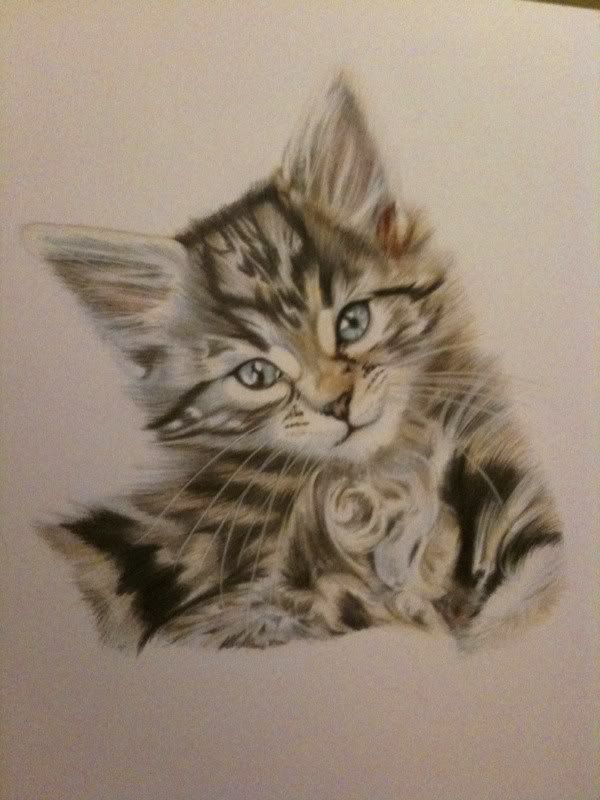 Coloured Pencil on
Windsor & Newton Bristol Board
On the riding front, i has a very successful XC schooling session on Glider this morning who was very lively to say the least. He seems to get more enthusiastic each time i jump him which is brilliant. He flew over the ditch again today and absolutely loves the water. Only five days left until our first event, i just really hope the rain stops so the ground has a few days to dry up a bit. We'll see what happens.
So hopefully i will find some more inspiration for another drawing tonight and hopefully get going on the next one, it will also give me time to think about whether i will leave the drawing of Marble as it is or add some more in. I am really enjoying using the FC Polychromos pencils, but think i will try a different paper soon as the Bristol Board is very smooth and i think i might need something with a little more tooth. Have to do some experimenting i think!