Me and mum took Glider out for another trip in the lorry today and we moved the second partition slightly closer to him, had him tied up with his haynet and i sat in the living away from him this time and he was brilliant. Even ate his hay this time. Stayed very relaxed and travelled on his own the whole time with no problems at all, i think he is starting to get his confidence back. So at least we can get to Aston on Friday now, hopefully after another journey out tomorrow, we might be able to get Robin in too for Kate!
Had a pretty fun schooling session with him today, he was very lively and slightly strong to begin with but soon got his head into work mode and did some lovely work. So i am hoping it will bode well for our test on Friday. Going to hopefully give him a little jump in the school tomorrow before we go on Friday as he will have Thursday off to save his energy, though these days he seems to be full of jumping beans, so may have more energy than i anticipate him having on Friday! Can't wait now, it's so close, bring on the season!
On the art front, i started another drawing yesterday. I thought i would go for something slightly different and do a bit of an experiment which seems to be going quite well so far. I decided to try using the coloured pencils on black watercolour paper. I am using a mixture of Faber Castell Polychromos and Derwent Coloursoft pencils, which both seem to be working quite well over the black paper. I am finding that i don't have to put too much light under the darker colours but with the coloursoft can just highlight over the top if i need to which creates quite a nice look. I'm aiming to be able to blend the really shaded areas of the horse into the background so it creates a real atmospheric look and makes the front of his face stand out more. So i have managed to do the whole of the front of his face so far, including his lower lip and chin and the nose band and brow band.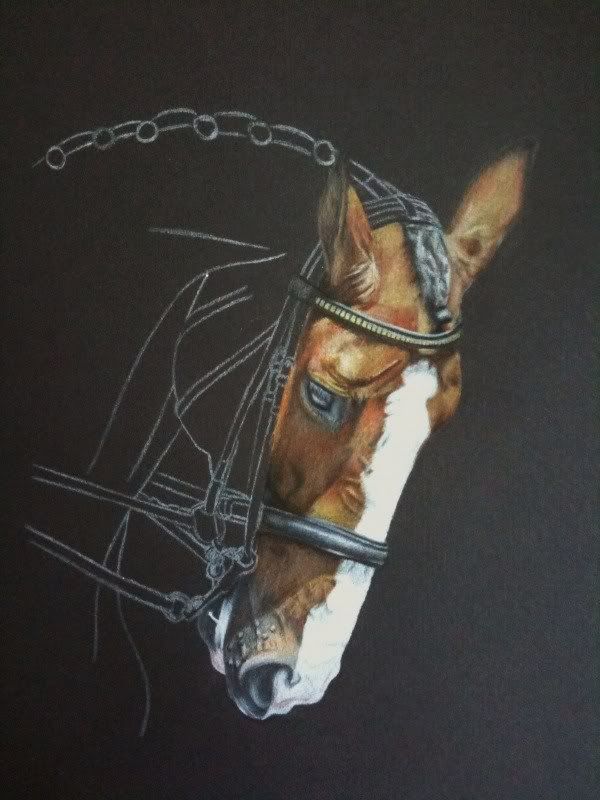 Coloured Pencil on Winsdor & Newton
Black Watercolour Paper WIP
I am planning to work on this some more tonight and will hopefully be able to take the next stage picture tomorrow morning when there is some daylight to use to take a better picture. I am quite excited to finish this piece now as it's different to anything i normally do and i'm hoping it will make quite an impact when it's complete.