The weekend went way too quickly as they always do. I had a jumping lesson planned with Glider yesterday but unfortunately didn't get there due to a small issue with Glider panicking himself in the lorry. We have had a couple of problems with him travelling in the last few weeks and thought we had managed to just about get past it, but unfortunately he is still not very confident and so we need to go back to basics with him and get his confidence back again in the old lorry and then in the new one. We are also having someone come to look at the new lorry to check that all the suspension and brakes are okay so it's as stable for him as it can be. With only three weeks to go until the eventing season starts, it's the last thing we need but it can't be helped. However, with him being placed 4th at his first show of the year last week i am still beaming from that and will do all i can to have him travelling well again in no time hopefully.
So after the drama of the morning yesterday, i got back to drawing and finished my latest drawing of the German Shepherd. I'm really pleased with the outcome despite a few reservations about the colours to begin with. I think it took around 10 hours in total but i really enjoyed working on it.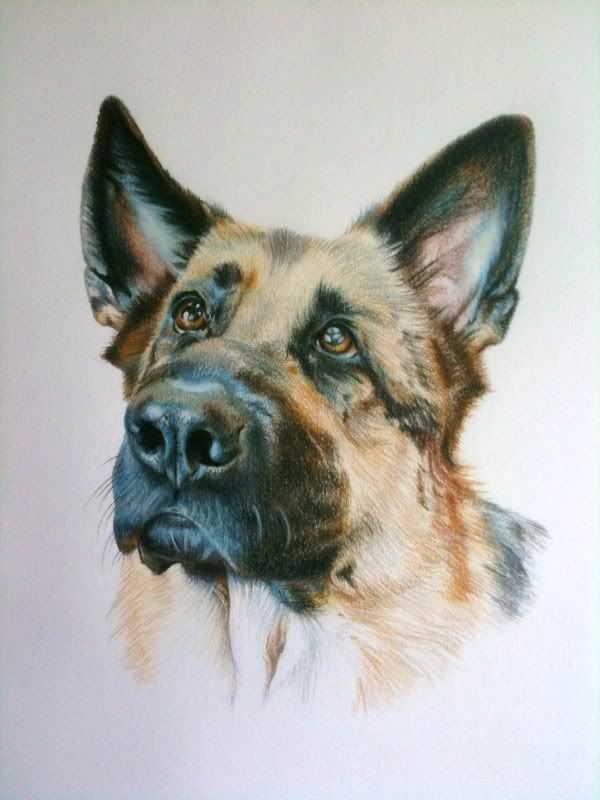 German Shepherd
Coloured Pencils on
Daler Rowney Cartridge Paper
I am hoping to start working on a new drawing tonight as i have a busy week ahead of me with lots of badminton, a cinema trip and then 3 days of college from Friday through to Sunday, so i want to make use of all the time i have spare to draw. I haven't decided what this will be yet but i will post an update as soon as i have started on it.